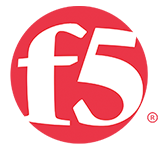 Bring new services to market faster
F5's BIG-IP is the market leader in load balancing, designed to ensure the speed, availability and security of your business critical applications and networks.
Our pay-as-you-go model optimizes consumption and costs.

No upfront investment


Up to 30% cheaper than equivalent solutions

Reliable and intuitive software with advanced functionality
Enables optimised application availability and user experience with intelligent L4-L7 load balancing, SSL/TLS offload and visibility, and programmatic traffic handling with F5 iRules. Available on a pay monthly basis.
Throughputs available: 25 Mbps, 200 Mbps and 1Gbps.
On a pay-per-use monthly basis provides, in addition to everything described in the Good version, advanced management, offering maximum security, performance and availability for applications and network. Specifically it includes:
DNS BIG-IP allows globally distributed users to be directed to the closest or best performing application servers, with global load sharing of server and DNS services.
BIG-IP AFM mitigates layer 3 and 4 threats in real time. It offers multi-layered DDoS protection and network security.
BIG-IP APM enables secure, anytime, anywhere access with application authentication (SAML, OAuth and OIDC), authorisation and endpoint inspection, as well as SSL VPN, Single-Sign-On (SSO) and multi-factor authentication (MFA).
BIG-IP ASM with WAF protection for applications protects against a wide range of application-layer threats, including L7 DoS, bot attacks and 10 other top OWASP attack types. Provides regulatory compliance with PCI-DSS, HIPAA, FIPS 140-2 and more.
Throughputs available: 200 Mbps or 1Gbps
Do you need more information?
Leave us your contacts and an ONI specialist will call you soon
MAKE IT SAFE,
MAKE IT ONI